Custom Chocolate Manufacturer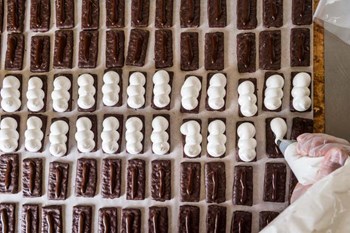 Interested in developing an original confection for your company? Brooklyn Born® Chocolate is proud to offer custom chocolate manufacturing services for wholesale b2b clients. Tell us about the shape, ingredients or flavor profile you envision. We'll take your idea and use Jean-François' palate and culinary expertise to create a world-class product that you will be proud to call your own. Please contact us for more information on new recipe research and development, custom chocolate mold designs and transfers for bonbon décor.
CASE STUDY:
In 2011, Brooklyn Born Chocolate partnered with Nitehawk Cinema to create custom molded chocolate replicas of their company logo-an antiquated film reel behind a waning crescent moon. Our Executive Chef worked closely with the Nitehawk team to develop durable yet cost effective customized molds and the final result was a vision realized. We're still making fresh batches of Nitehawk's one-of-a-kind custom chocolate bars today, so look out for them during your next intermission at this independent movie house and cinema eatery in Williamsburg, Brooklyn.