Helping Your Brand Thrive
Accessibility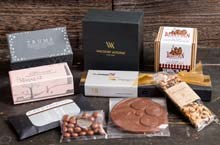 We believe that communication is crucial to the success of any private label customization project. That's why our Sales & Development team is always at the ready to discuss ideas, address questions and review proofs throughout the entire creative design process. Our commitment to connect with clients on a personal level ensures that every custom packaging venture we green light is fully realized down to the last detail.
Packaging Options
We recognize that custom packaging development is all about style and flexibility. Thanks to our extensive background in the private label specialty food sector, our current range of services is as diverse as the companies, clients and human beings we partner with everyday. From personalized event favors and independent retail brand lines to hospitality gift boxes built to size and design specifications, we are fully equipped to bring your creative packaging ideas to life.
Smaller Runs
We understand the limitations that small-to-medium business owners face when the time comes to expand their specialty food offerings under a private label. Most manufacturers require high volume contractual agreements and substantial financial investments up front. At Tumbador® Chocolate, we prioritize accessibility through communication, which means we strive to form bonds with potential clients and work closely with them to establish achievable goals, both financially and creatively.