Real Baking with Rose
Nov 14, 2009 | From the kitchen of Rose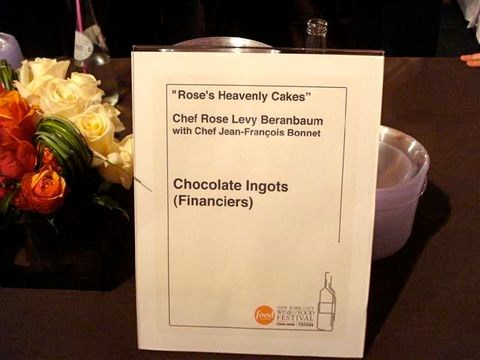 I've been wanting to see my friend Jean François Bonnet's chocolate factory for a few years now but the perfect opportunity finally presented itself when Woody was here in October for the Food Network's Sweet Night. JF, who made the chocolate ingots (financiers)--the recipe that he contributed to Rose's Heavenly Cakes, insisted that I bring Woody out to Brooklyn for a visit. And what a visit it was: We tasted many things and were sent home with two shopping bags filled with more!
When I first met JF he was a very young pastry chef from Provence France, working at The Monkey Bar in New York City. I was blown away by his chocolate financiers aka ingots served at the end of the meal--innocent looking little rectangles of dense chocolate cake that exploded with flavor in my mouth. They inspired me to write an article for Food Arts Magazine on the different varieties of financiers and when I Grub Street interviewed JF about his I was stunned by his technical knowledge. He also confided in me that he was newly arrived in the country and that it was very difficult for people under 30 years of age to get immigration status. I immediately did everything I could to ensure he would stay in this country, including writing to the White House that we must not lose this culinary treasure. Stay he did and went on to become pastry chef, first at the wonderful restaurant Cello under chef Laurent Tourondel and then at one of the country's top restaurants Daniel (chef/owner Daniel Boulud).
Recently JF has chosen to concentrate on chocolate and to apply his vast knowledge, magical skills, and extraordinary imagination into his own chocolate company, Tumbador. Did I mention that he is also a highly articulate, joyful and fun-loving person? His chocolate confections certainly reflect it.
JF could have been many things. He's a trained chef de cuisine, a pastry chef, a linguist, and as you can see for yourself movie star handsome! For now he is maitre chocolatier.
These are the power bars he recently produced for the tennis open.