About Tumbador Chocolate
Tumbador® Chocolate was founded in 2005 as a Brooklyn-based private label confectionary manufacturer offering fine chocolates in fully tailored custom packages. Our company thrived by developing strong local business-to-business partnerships with Fortune 100 companies, luxury hotels and resorts, gourmet markets and specialty food stores within the New York City area.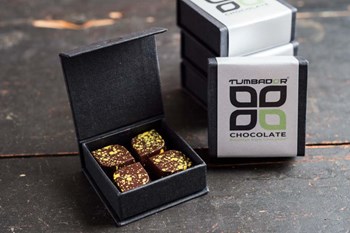 Executive Pastry Chef Jean-François Bonnet chooses only the finest all natural ingredients for Tumbador® Chocolate's premium product line. Chef Bonnet's signature confections blend exotic fruits, spices and herbs with all-American ingredients, including peanuts, crispy rice and graham crackers.
Our staff is as special and diverse as our products. Many members of the Tumbador® Chocolate family are given a second chance through community based programs such as Strive, Goodwill and The Fortune Society. Each and every Tumbador® Chocolate employee understands that he or she is an integral part of our growth and our success.
As Tumbador® Chocolate approaches it's tenth anniversary, we look back and celebrate our unwavering dedication to quality, our development of a Brooklyn Born Chocolate company brand line, and last but hardly least, our ongoing dedication to establish new B2B partnerships on a local and national level.